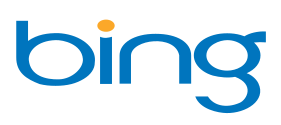 Bing Mobile, formerly known as Live Search Mobile, is a search engine and tool for mobile browsers. It is Microsoft's mobile device branch of their Bing search engine.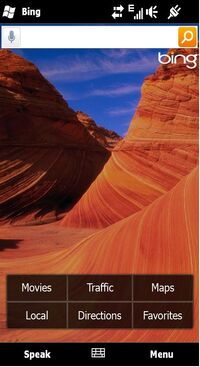 Mobile browsing allows users to access Bing on their mobile devices through WAP or GPRS connection. The interface is optimized for viewing on mobile handsets. Users can:
Search the web for information
Get news information
Find local businesses in the user's local area
Get maps and driving directions
Get answers to questions
"Find My Location" to pinpoint the user's location (UK and Japan only)
In the U.S. on HTML-ready mobile devices such as iPhone, Android, and touch-screen Windows phones, additional features are available:
Automatic location detection (geolocation)
Suggested local listings based on location and time of day
Save listings to Favorites, and send that list to friends
Movie listings with clips and trailers
Sports scores and stats, with real-time updates during games
The Bing for mobile browser is available in 31 markets worldwide.
Application
Edit
The Mobile Application is available as a Java ME application for non-Windows phones, as a richer .NET application for Windows phones, and as an application for BlackBerry, iPhone OS, and BREW. It provides local listings, maps (road and aerial satellite), driving directions, and traffic conditions. Other features include:
Predictive text input
Browse and search through business categories
Image search
Speech recognition search input
Search results include a phone number and address; users may click to call for an immediate connection
Send search results to others using SMS
Find maps for specific addresses
Get directions to and from a particular destination
Get turn by turn directions using a GPS receiver
View traffic information for major roads in selected cities.
Get weather forecasts.
View movie showtimes and theaters.
Turn-by-turn navigation for Windows 6.x phones.
The Bing app for iPhone and iPod Touch includes these additional features:
Barcode and cover art scanning
Enhanced product listings
Social updates from Facebook and Twitter
Social search - see results from social network alongside web results
Share search results on Facebook, Twitter, or through email
The Bing app is available in the U.S. on a variety of Windows phones, all BlackBerry devices, several BREW devices, iPhone and iPod Touch, and Sidekick devices.
In the United States, Microsoft operates a toll-free number (1-800-BING-411 or 1-800-CALL-411) for directory assistance called Bing 411. This services uses voice search technologies powered by Tellme. Users are able to find local shops and restaurants and obtain driving directions, traffic reports, sports scores, stock quotes, weather reports through this service.
External Links
Edit